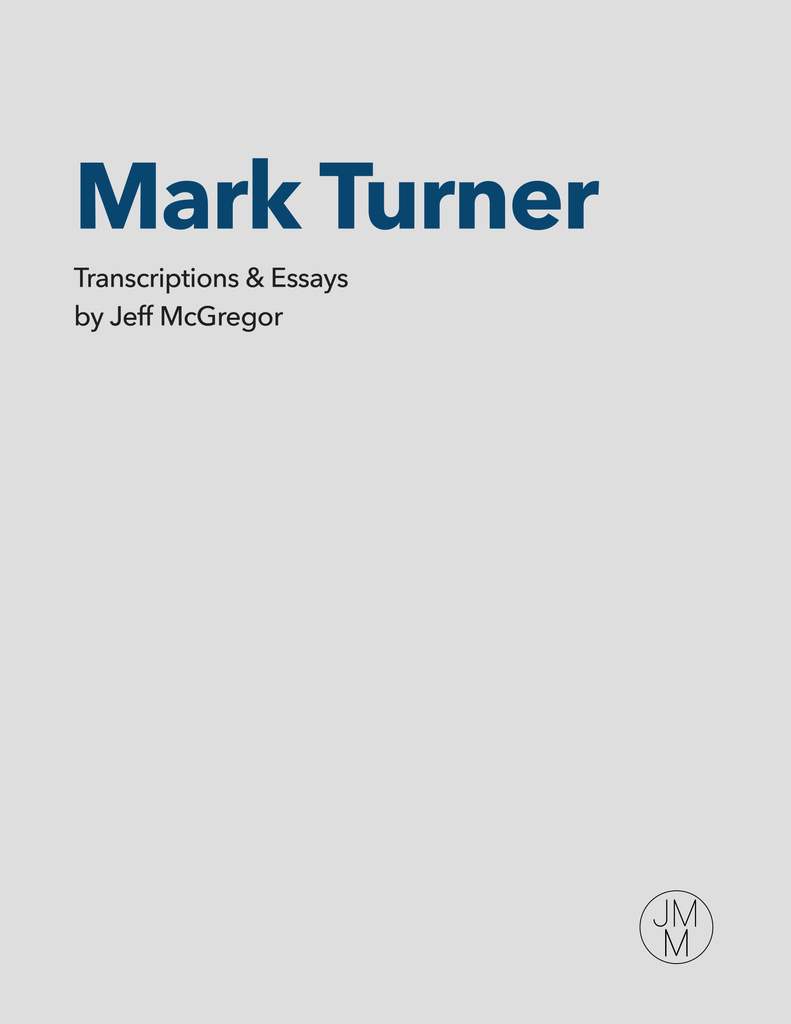 Jeff McGregor Music
Mark Turner - Transcriptions & Essays (for Bb Instruments)
This new collection of 35 transcriptions draws from across Mark Turner's discography. Also included are transcriptions from various bootlegs selected for this project. You can find these recordings collected here.
The accompanying collection of essays are based on an extended series of interviews with Mark Turner. They offer an in-depth look at various aspects of Turner's playing. Excerpts from the transcriptions are also analyzed and discussed. A foreword by Kevin Sun provides the historical context of the transcriptions.
Transcriptions are all Bb parts. This project was edited by Jim Brenan.
236 Pages
This collection includes the following transcriptions.
"Lathe of Heaven" from Lathe of Heaven (2014)       
"Sonnet for Stevie" from Lathe of Heaven (2014)                         
"Ethan's Line" from Lathe of Heaven (2014)       
"Murley's in the House" from Solos: The Jazz Sessions (2011)        
"Berkeley Street" from Solos: The Jazz Sessions (2011)   
"Jacky's Place" from Dharma Days (2001)      
"26-2" from Mark Turner (1998)       
"317 East 32nd Street" from Mark Turner (1998)       
"Salt and Pepper" from Year of the Snake (2012)
"Year of the Snake" from Year of the Snake (2012)
"Perla Morena" form Sky & Country (2009)
"JJ" from Fly (2004)
"State of the Union" from Fly (2004)
"Lennie Groove" from One is the Other (2014)
"Teule's Redemption" from One is the Other (2014)
"Yard" from One is the Other (2014)
"Ohnedaruth" from All Our Reasons (2012)
"Tolli's Dance" from All Our Reasons (2012)
"Mellow B" from Quartet (2006)
"Iverson's Odyssey" from Quartet (2006)
"Chords" from The Remedy (2008)
"Flute" from The Remedy (2008)
"View from Moscow" from The Remedy (2008)
"A Life Unfolds" from The Remedy (2008)
"Zhivago" from The Next Step (2001)
"Minor Blues" from The Next Step (2001)
"Stablemates" from Selected Bootlegs 
"I'll Remember April" from Selected Bootlegs
"Crepuscule with Nellie" from Selected Bootlegs
"Yard" from Selected Bootlegs
"Two for the Blues" from Selected Bootlegs
"Airegin" from Selected Bootlegs
"Jacky's Place" from Selected Bootlegs
"Along Came Betty" from Selected Bootlegs
"Southhampton" from Selected Bootlegs